V is for Vintage
Channeling my inner Regina George: "Vintage! So adorable"
Hi, and welcome back!
Before we get into this week's newsletter, a quick reminder: I'm still looking for reader submissions!
I want to do a reader submissions issue! I'd love for you to send photos you have taken with me! I can be in the photo if you like, or not! I'm mostly looking for shared memories and stories.
---
Images shot on film feel so different from digital ones, it can be hard to describe. It turns out, that it's not that hard to quantify: film is usually scanned at lower resolution than modern digital cameras so it's not always as sharp, film has actual grains from the photo-chemical process which can also feel less sharp, but film can also capture a better range between light and dark spots than digital cameras can. Different brands of film capture color differently, and even lenses' warping of light can affect the color, so vintage lenses (even if used with digital cameras) can add their own flavor to a picture.
This week we're looking at pictures I shot on film. They're all from the last three years or so, but something about each of them makes them feel like fifty years old and all that more distant.
March 2017. Barrel Oak Winery (Delaplane, VA)

We took a trip out to a few wineries outside DC in Virginia and I brought my camera along. Here, I clearly focused on the glass better than better than I did on Marcelo, whoops. The black and white film, the graininess, make this picture feel super old to me.
March 2017. Camp Roberts (Paso Robles, CA)

This is at a Model UN conference, it was early-ish in the morning, and I love how the color of the sky shows through in this film. Up until this point, I had only really used black and white film, but Mandy had a few rolls of color film she insisted on giving me because she wasn't using them, so naturally I popped one in my camera and took a picture. The color is so unique here, I don't think it would have shown up like this if I shot this with a digital camera.
May 2017. Eisenhower Executive Office Building (Washington, DC)

The decorations in this room in the Eisenhower building (we just call it the EEOB) definitely help this image feel a little older. My friend Amanda and her friend Zoe (pictured) were visiting DC from New York so I used my green badge access to take them on a tour of this building in the White House complex. I think this is old Secretary of the Navy room, and one of the rooms next door has a vintage cannon ball dating back to the Civil War, and the rest of the décor makes this feel like a living museum. I shot this on my my Leica M3, and Coop tells me that old Leica lenses have a "green" shift to them, which I think also helps this image feel old and vintage-y.
September 2018. Bar Bocce (Sausalito, CA)

This was a fun day in Marin, we stopped by a few different places. It was a nice sunny day and the grainy texture and slightly washed-out coloring make Van and Brian look like this took place in the 1970s, and this is a shot for a brochure for like, waterski lessons or something. Well maybe that's because Van has the surf-bum vibe down to a science so he adds that to any picture, but still.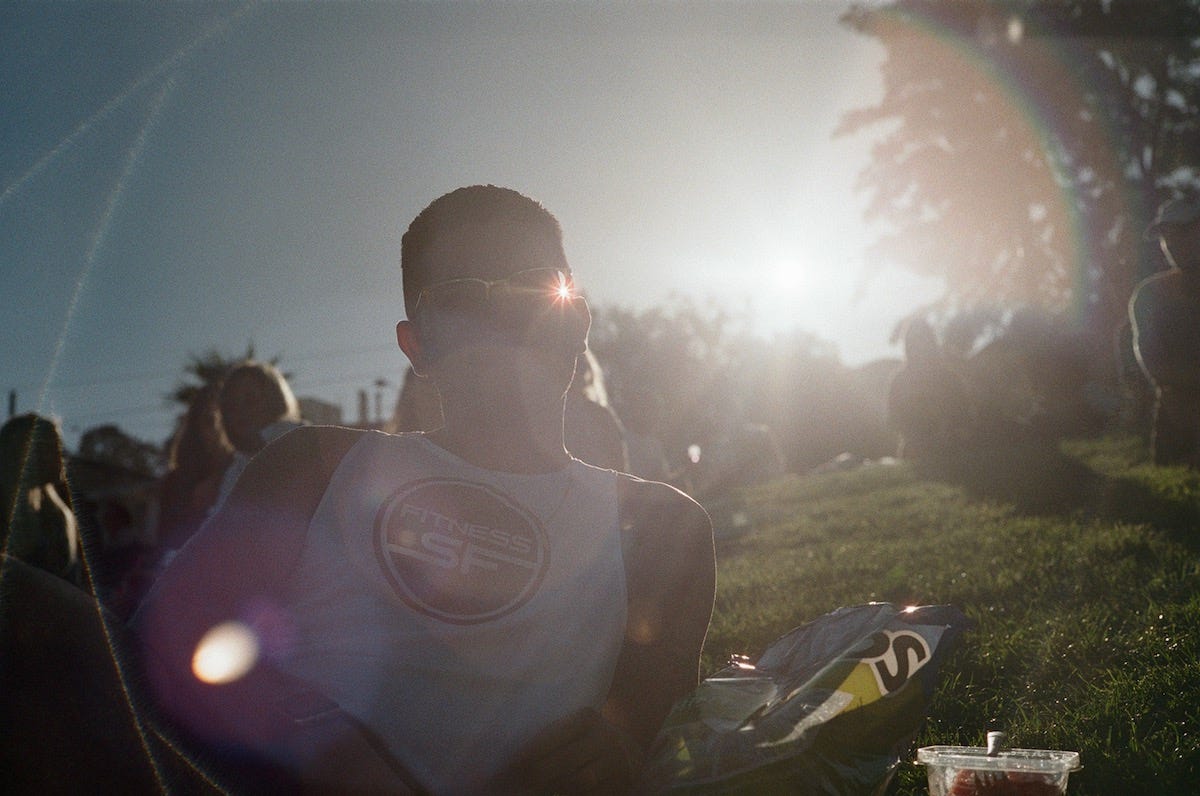 October 2018. Dolores Park (San Francisco, CA)

I think this picture of Juan would have been much more blown out on digital, the sky would have lost almost all its color. But on film, you can sort of almost see his face, and even his glasses. The giant lens flare helps add some vintage flavor. I think what also makes this picture feel a million miles away (even though it was shot like maybe two miles from where I am now) is seeing a crowded park and remembering that we won't be able to be that proximate to other people for a while.
Welp, that's the second week in a row we're closing on a note about the pandemic, after me trying not to mention it. I'm a little sorry, but the reality is the pandemic is a part of everybody's lives right now. It's taking a weird toll on our moods right now (I had a super hard time concentrating on work on Monday), and I think it would be dishonest to pretend like everything's fine. So, comments relating to the pandemic stay for now.
I hope you're all staying safe and sane out there, and I'll see you next week!
XOXO,
Margs