U is for Under the Influence
Memories accompanied by some liquor
Hi, welcome back!
The title might lead you to think otherwise, but I'm actually sober right now. Both "now" being Saturday afternoon when I'm writing this, and also "now" being Wednesday morning when this is scheduled for you to see.
I'm a big fan of cocktail bars, so this week we're looking at some favorite bars and favorite drinks. A lot of these are shot with a fairly shallow depth-of-field so maybe they give an impression of being slightly buzzed? (Kind of a stretch, I know)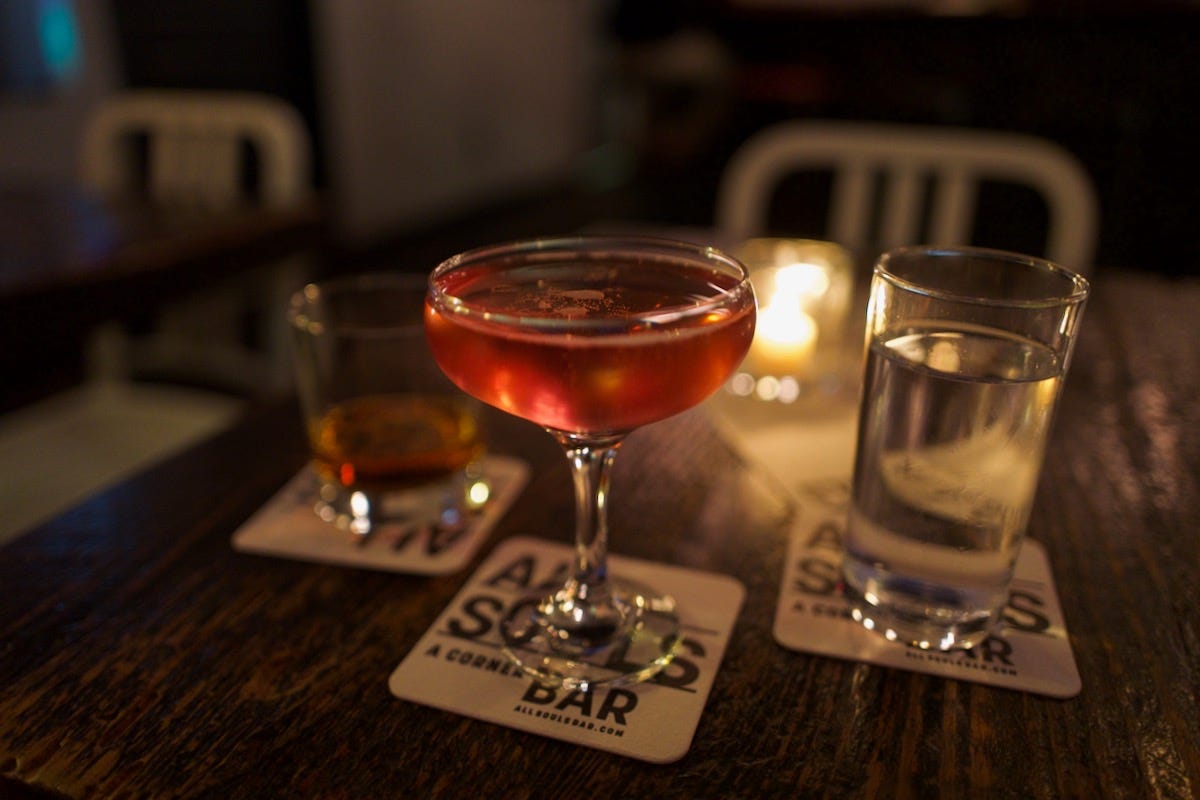 November 2017. All Souls (Washington, DC)

This is the "All Souls" combo at All Souls in DC. The combo feels like it was made for me: a glass of sparkling rosé with a shot of whiskey (and then I add my own bonus, a glass of water on the side because it's important to stay hydrated). All Souls was walking distance from my apartment, and was one of my favorite places to visit.

This picture is from the last time I went there before moving back to San Francisco after my year in DC.
April 2018. Pagan Idol (San Francisco, CA)

I've become a big fan of tiki bars, they're usually full of character and tasty drinks. Pagan Idol is my favorite tiki bar in SF, and honestly, I forgot what drink this is a picture of (I want to say something like a "bird of paradise"?) but I loved how the drink was illuminated by the candle on the table. The cream or whatever inside the cocktail was billowing upwards and was mesmerizing.

This visit was with Mandy, Joseph, and Mandy's brother and his wife. Her brother and had never been to a tiki bar before, so it was great to see one of my favorites through fresh eyes. We also stopped by the Tonga Room on the way to Pagan Idol, but my policy for Tonga Room is that it's cute and novel to see (I mean, they have a swimming-size pool inside the bar), but to actually be able to sit down and enjoy a drink, we're better off going to Pagan Idol.
March 2019. True Laurel (San Francisco, CA)

This is the Paloma Prieta at True Laurel, a paloma with a stripe of guava. This is probably in my top 10 favorite cocktails, it's such a good mix of tangy and refreshing. I got in the habit of ordering this drink every time I went to True Laurel until one time I showed up, and they told me it was off the menu, because guavas were out of season. As a creature of habit, I get really bummed out when my go-to orders at places change. Luckily, it came back a few months later.

Here, I was getting this drink with Nicki and Brian, we had just gone to Trick Dog around the corner and had their amazing French fries and wanted to grab one more drink.
February 2020. Archipelago (Washington, DC)

Another tiki bar! As I've written before in J is for Joy, Archipelago is one of my favorite bars in DC (slightly above All Souls) and is my favorite tiki bar on the planet. Their piña colada is pre-blended, served quickly, tastes great, and is incredibly consistent from visit to visit. I'm not sure I can capture what makes the bar special to me, it's so reliable and fun without being too pretentious and snooty, they have good snacks, it's in a great location on the way to or from other bars we used to go to, it's rarely too crowded, it's just the whole package.

I went here two separate times when I was back in DC this year for a week for work this year. This is the second visit on the Saturday with Nicole, which is fitting because she's the one who introduced me to the bar in the first place.
March 2020. The Interval at Long Now (San Francisco, CA)

Gotta save the best for last! This is this is the Oaxacan Old Fashioned, my favorite drink at my favorite bar. I love how they always serve it with the angled ice. The Interval at Long Now made an appearance in C is for Candid, here in the small room with a shared table in the back. The lighting in this room is incredible at sunset, the window faces west right into the sun setting behind the Golden Gate Bridge. This bar has tons of fun stuff about it, the members-only bottles hanging from the ceiling, the machine-drawn chalk diagrams, or its connections the Long Now Foundation's projects, any of which always makes for great conversation topics. But I also love how it's mellow enough that I can go here on my own for a drink and bring a book or read on my phone; there's not really another bar in SF that I enjoy going to by myself like I do here.

This picture is from my most recent visit to The Interval, the weekend before SF's shelter-in-place order was issued. I'm pretty sure that when things open back up, it'll be the first place I go back to get a drink. (I know, I almost went an entire newsletter without acknowledging the pandemic, sorry)
Cheers! Hope you're all doing well and see you next time!
XOXO,
Margs