L is for Lighthouse
Seriously, you should have seen this one coming
A Public Good?
To me, lighthouses are like little nostalgia towers. But maybe, nostalgia for a time that never really existed.
A friend once remarked something along the lines of lighthouses are a public good, nobody directly profits off them. They are free, they provide safety and navigation waypoints for ships, which improves commerce and benefits a whole community. This is a common sentiment, but I did a little bit of searching online and that may be a rose-colored glasses take on history (see the Wikipedia), because the lighthouse is really just an extension of docking services combined with exclusive land access, so it benefits whoever has control of that land and port.
To me, lighthouses evoke imagery of a time when traveling by sea was more difficult and hazardous, when keeping a light burning to guide ships was a consummate, monk-like duty. But the entire job of a lighthouse keeper has been replaced by automation, and for the Mile Rocks lighthouse (just offshore of Lands End in San Francisco, there's a great KQED story on Mile Rocks), the lighthouse tower has now been replaced by a helipad. So like many lighthouses, it's a shadow of its former glory, if there ever was any glory in it.
Lighthouses make for great pictures because they are usually in spots with great views of the water. I started kidding around on Instagram that I wanted to become a lighthouse influencer, and posted as many pictures of lighthouses as I could.
This week's schtick—in addition to being all pictures of lighthouses—is that these pictures are kind of like the "B-Sides" to the photos I posted on Instagram. Or vice versa. Each photo is paired with its companion photo from a slightly different angle of the same lighthouse.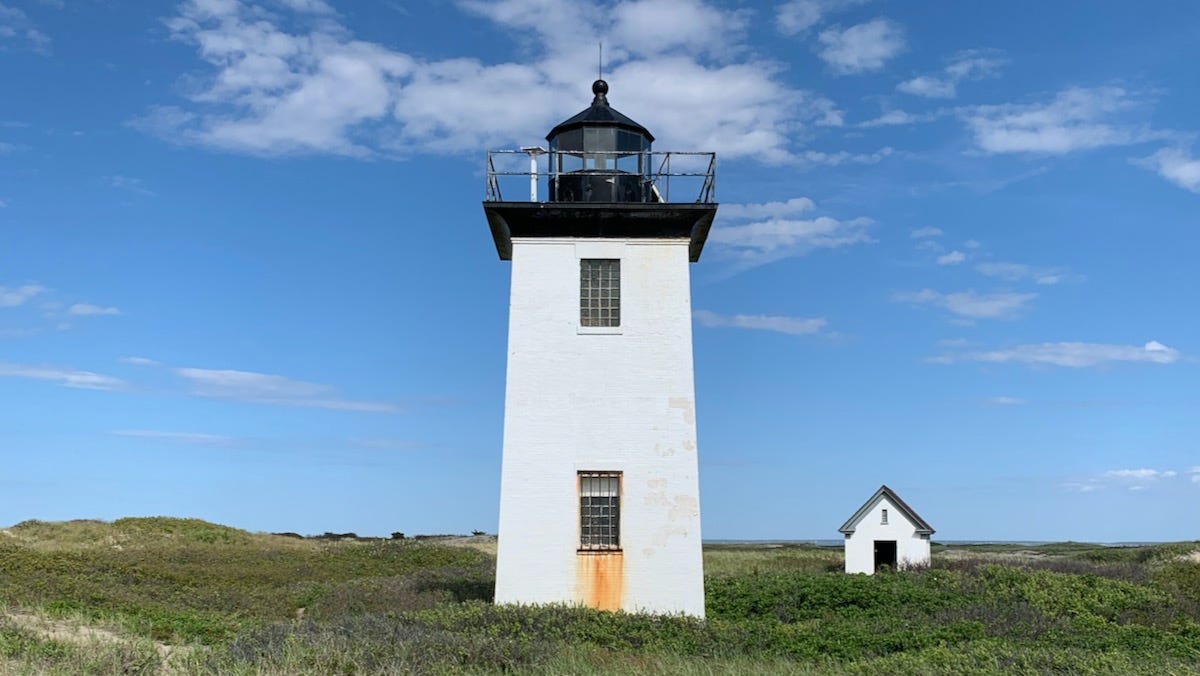 June 2019. Wood End Lighthouse (Provincetown, MA)

Last summer I went to Provincetown with Marcelo and Rodrigo for a few days after my swim in New York. This lighthouse is all the way at the end of the cape, inaccessible by roads. It was a little bit of a schlep to get there, the kind that makes the photo feel extra worth it. This one has a completely different energy than the Instagram shot: it's feels more level, balanced, serene compared to the shot at an angle from Instagram.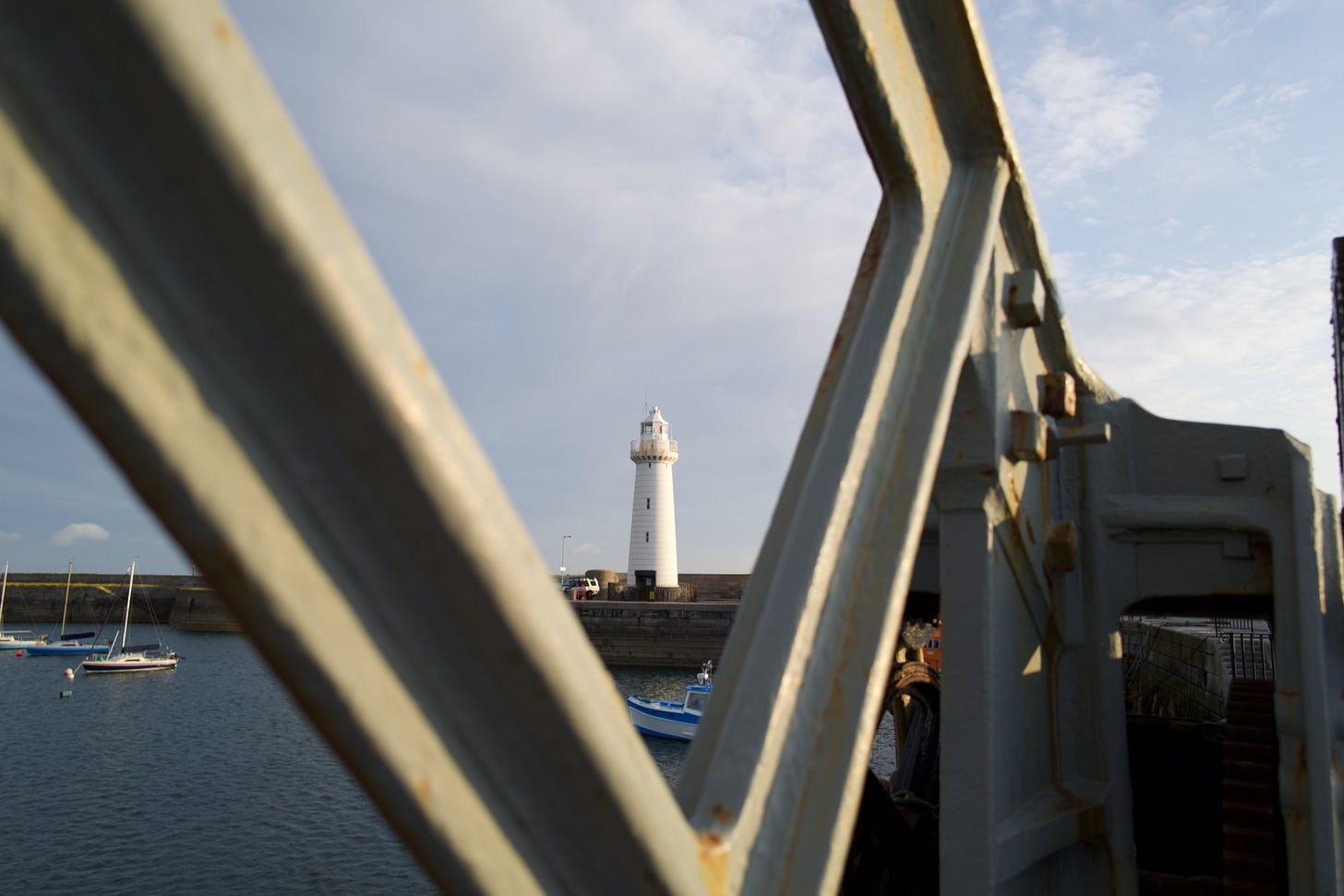 September 2019. Donaghadee (Northern Ireland, UK)

Donaghadee is such a cute little town, it was great to spend a week or so there while waiting for my North Channel swim. The cove has this great lighthouse and I took this picture through this crane and had a little fun framing it. I think in this case, the Instagram shot had the better angle, that shot has a more "full" feeling of the cove.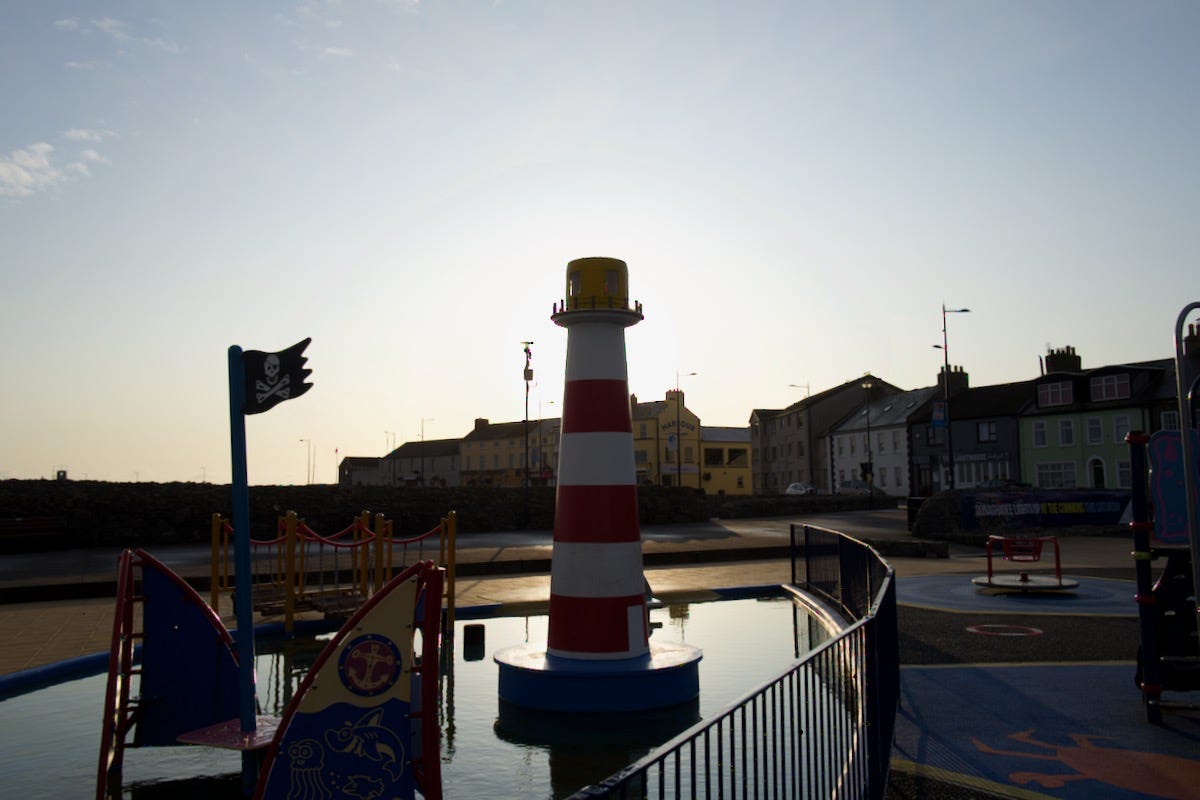 September 2019. Donaghadee (Northern Ireland, UK)

The upper photo, I keep thinking I should print out and hang on my wall. These was taken a few hundred yards away from the ones before. The play structure (so technically not a functioning lighthouse) was so precious, and I loved being able to capture the sunset in this backlit shot. Even though it was taken minutes apart and only a few feet away, it's got a completely separate mood than the version I posted to Instagram.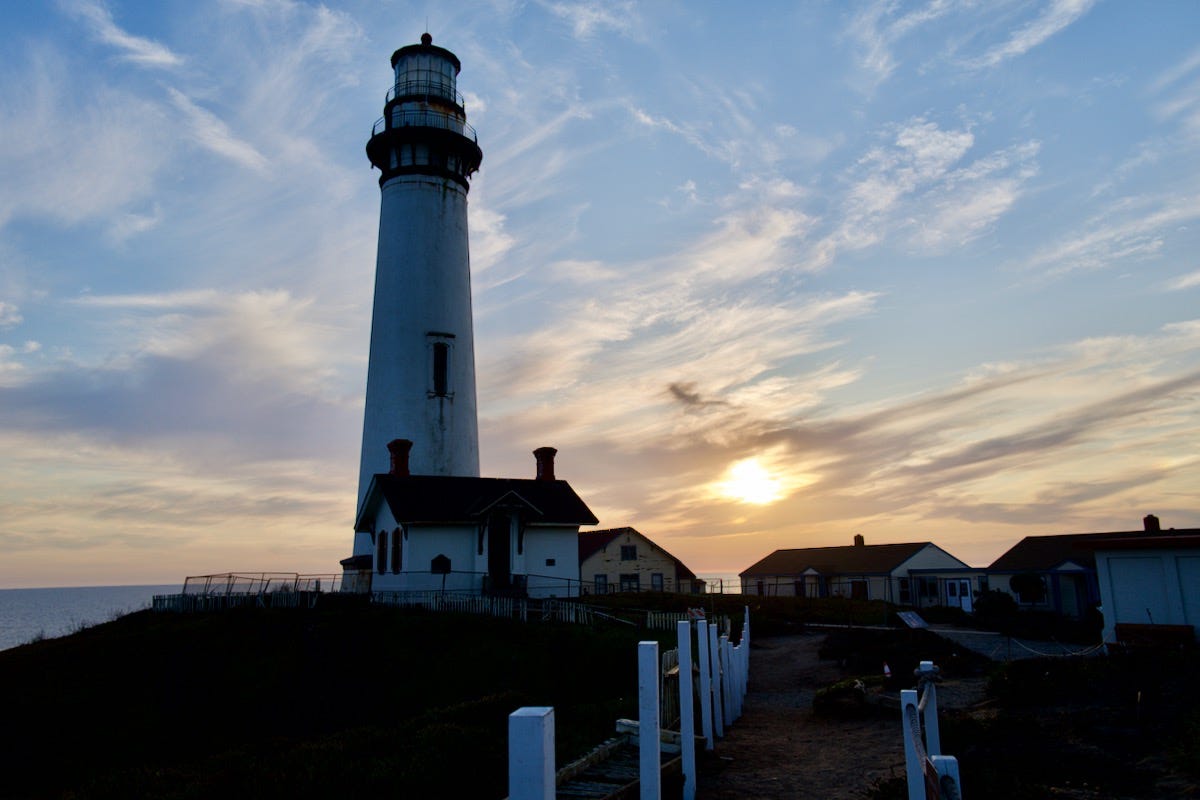 October 2019. Pigeon Point Lighthouse (Pescadero, CA)

We stopped at this lighthouse on the way back from a day trip to Monterey. We got there just before sunset, and got some incredible lighting. The upper photo from my standalone got a little more of the sun compared to the phone photo I posted to Instagram, I like them both.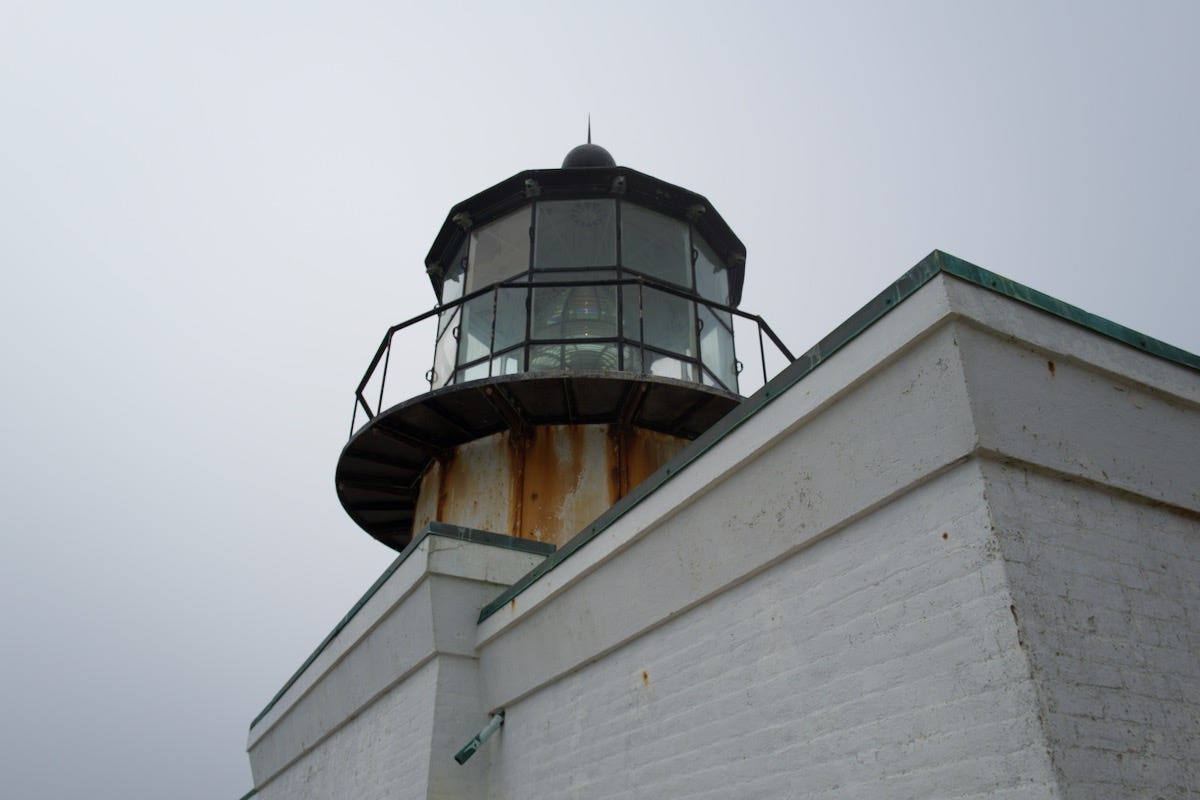 November 2019. Point Bonita Lighthouse (Sausalito, CA)

I took a day trip with Mac and Meghan specifically to visit this lighthouse and photograph it. It was very foggy and gloomy at the lighthouse, I like the mood both of the photos have. The one up top from my standalone has a fun angle and some great texture, and I like how the phone from my phone on Instagram does a better job establishing the lighthouse in context. They're both missing the footbridge that you have to traverse to get the lighthouse, which is super neat but surprisingly difficult to photograph in all that fog.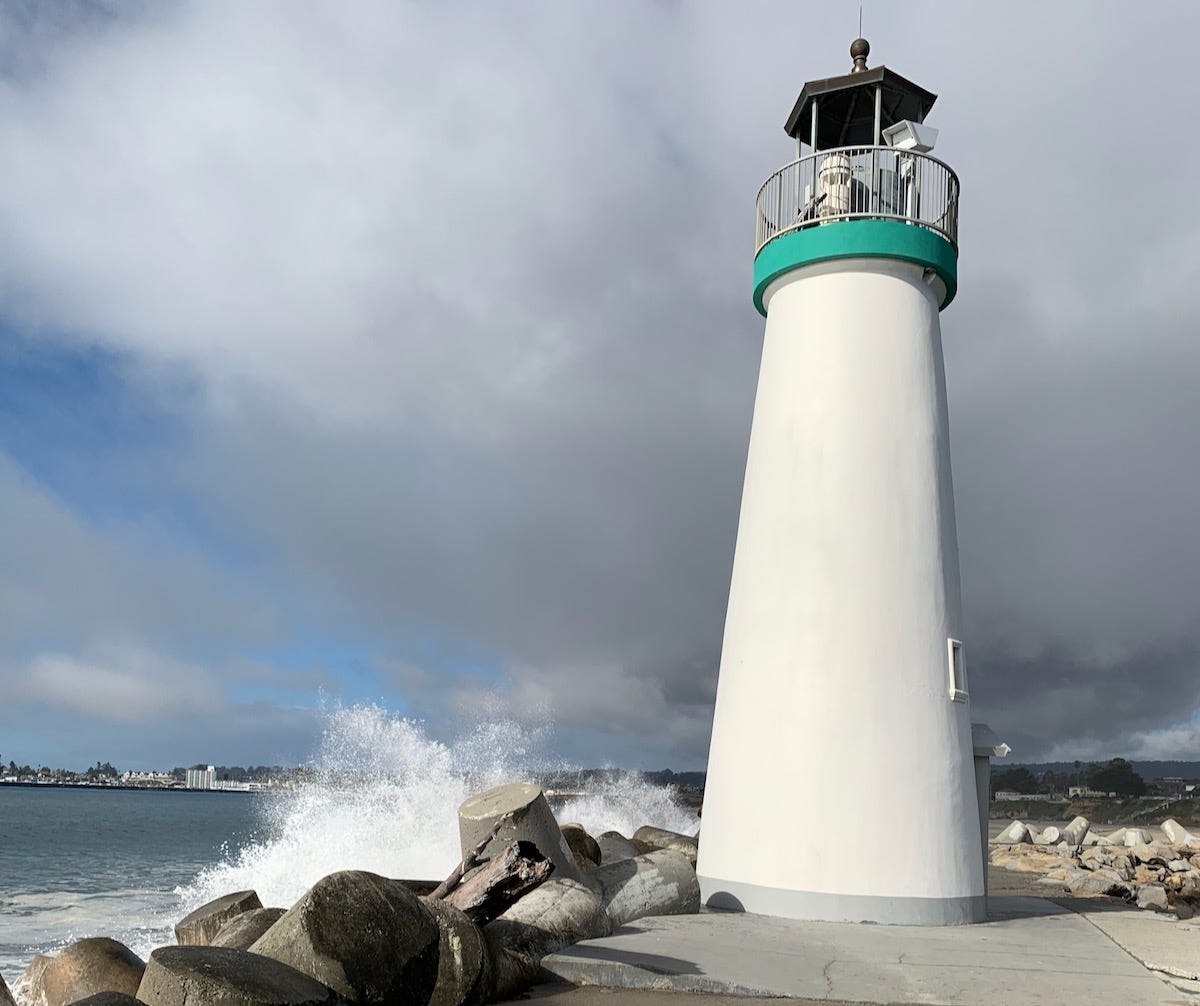 January 2020. Walton Lighthouse (Santa Cruz, CA)

I stopped at this lighthouse on the way down to Monterey. It's at the end of a jetty and there are signs warning about waves crashing. In the top photo I was able to catch a fairly big wave hitting the pilings, in the direct sunlight. The Instagram version has a little more context of the pier, but is also a little backlit.
It's been fun to be a pretend lighthouse influencer. Since all lighthouses in the US are owned by the government (the US Coast Guard manages them) and mostly free to visit, I doubt that there's much of a market for lighthouse-sponsored content.
I don't have any planned lighthouse visits coming up, but if you have any suggestions, please let me know! I recently discovered Lighthousefriends.com which is a great resource for locating lighthouses. I'm sure I'll visit another, I have a brand™ to maintain.
XOXO,
Margs