J is for Joy
Does this newsletter spark joy?
Sparking Joy
Mari Kondo "sparks joy" jokes are so last year, but hey, this newsletter is not known for referencing current memes anyways.
I don't know if professional photographers get this feeling, but as a hobby photographer, I'll take a picture and look at it after and be surprised it turned out as well as it did. I love that feeling of pride in having taken a good photo, and I love the feeling of being able to show somebody a photo of themselves that I've taken, that they enjoy too. Photos can be such a quick way to transmit joy.
Some of the photos I love the most are the ones with the really sincere smiles. In that spirit, this week we are looking at photos of joy, and photos that spark joy.
November 2015. Lower Haight (San Francisco, CA)

At Friendsgiving, Beth was hamming it up and showing off some wine that said "Marina" on it. She's just so clearly full of joy. I wouldn't say she's a Marina Girl™ herself, but I think it's a fun wine bottle nonetheless.
September 2017. Archipelago (Washington, DC)

Archipelago is one of my very favorite bars in DC. Once Nicole (pictured) introduced me to it, we were there nearly every week. I love their piña coladas, and it was walking distance from my apartment. In this photo, I love Nicole's excited posture and smile, clearly full of joy.
August 2019. Armstrong Redwoods State Natural Reserve (Sonoma County, CA)

On a weekend trip up to the Guerneville area, we checked out the nearby redwoods. We walked around for a bit, and I don't think the whole group was intending to go on a "full" strenuous hike. Anthony (not pictured) was like "hey lets go this way" and I think he knew full well that was the path towards a more complicated hike. We got to the top of a hill, and I think the rest of us thought we were past the hard part and back on our way down, so I was relieved. I caught this shot of Matt, who was also happy to have made it up the hill and start heading back—or so we thought. I think there was still more uphill after we stopped here.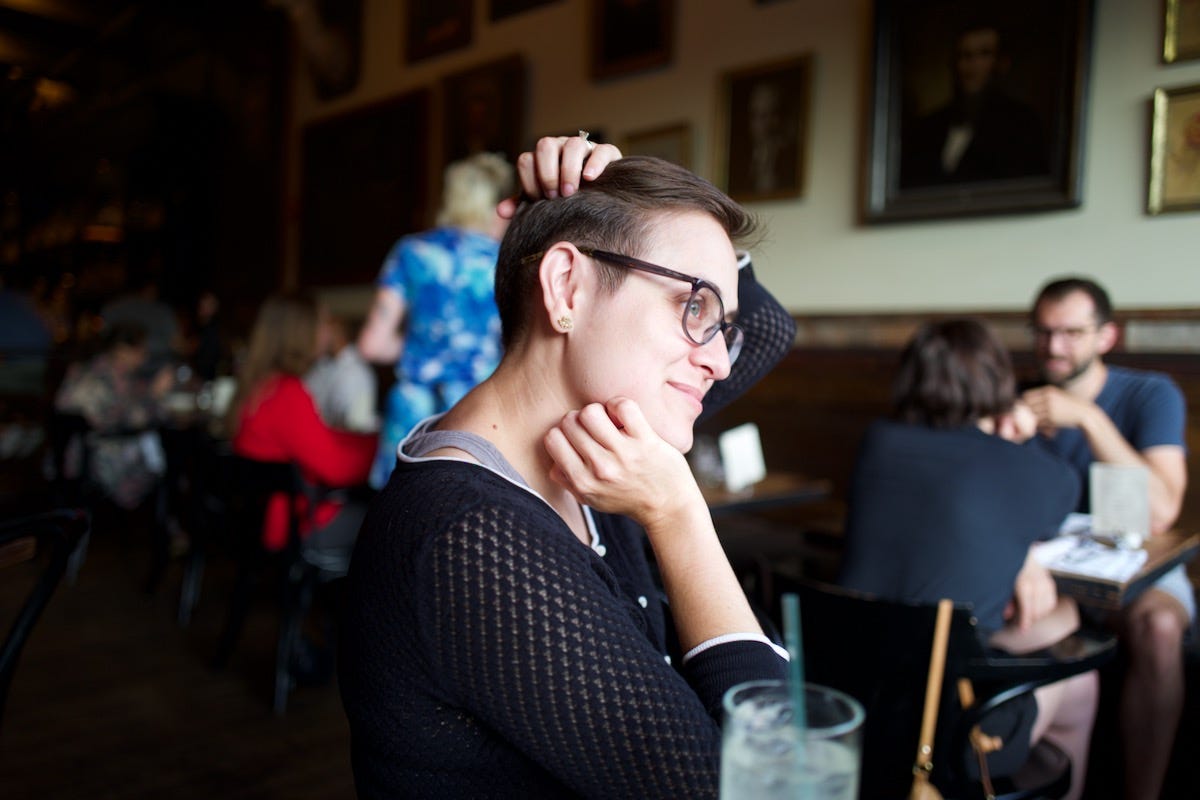 July 2019. Smith (Seattle, WA)

This is a different kind of joy. Amanda is an elementary school teacher and is known for having a very good, stern "teacher face." One time I introduced her to another friend and they commented on her serious "librarian realness." Which is all to say, Amanda is not unhappy in this photo and I really liked the way it turned out. I discovered it a few months later and sent it to her, she liked it as well, she reminded me she was proudly showing off a few new gray hairs. So it's not a typical image of joy, but the photo and memory definitely sparks joy.
That wraps up this week! Hopefully you experience some sort of joy in your own lives and weeks, because lord knows could all use some.
XOXO,
Margs