D is for Dutch Angle
I didn't have any pictures to make a "Deez Nuts" issue
Principles of Dutch Angles
Last year, I was showing some pictures I'd taken to my friend Aaron, who happens to a movie buff. He saw one of them and was like "wow, nice Dutch angle!" I had no idea what he was talking about.
I am but a mere hobby photographer, and the extent of any "formal" training in photography is the year of photography I took in high school. We learned some basics of framing and composition (like the rule of thirds), and developed our own film and printed pictures ourselves.
The interaction with Aaron taught me that there is a formal term for this thing I had tried on occasion: literally just angling the camera when taking a picture. There are a lot of ways to be intentional with it, to direct the energy of a frame, or a scene in a movie. But for the most part I've just gotten lucky.
This week, let's take a look at some Dutch angles!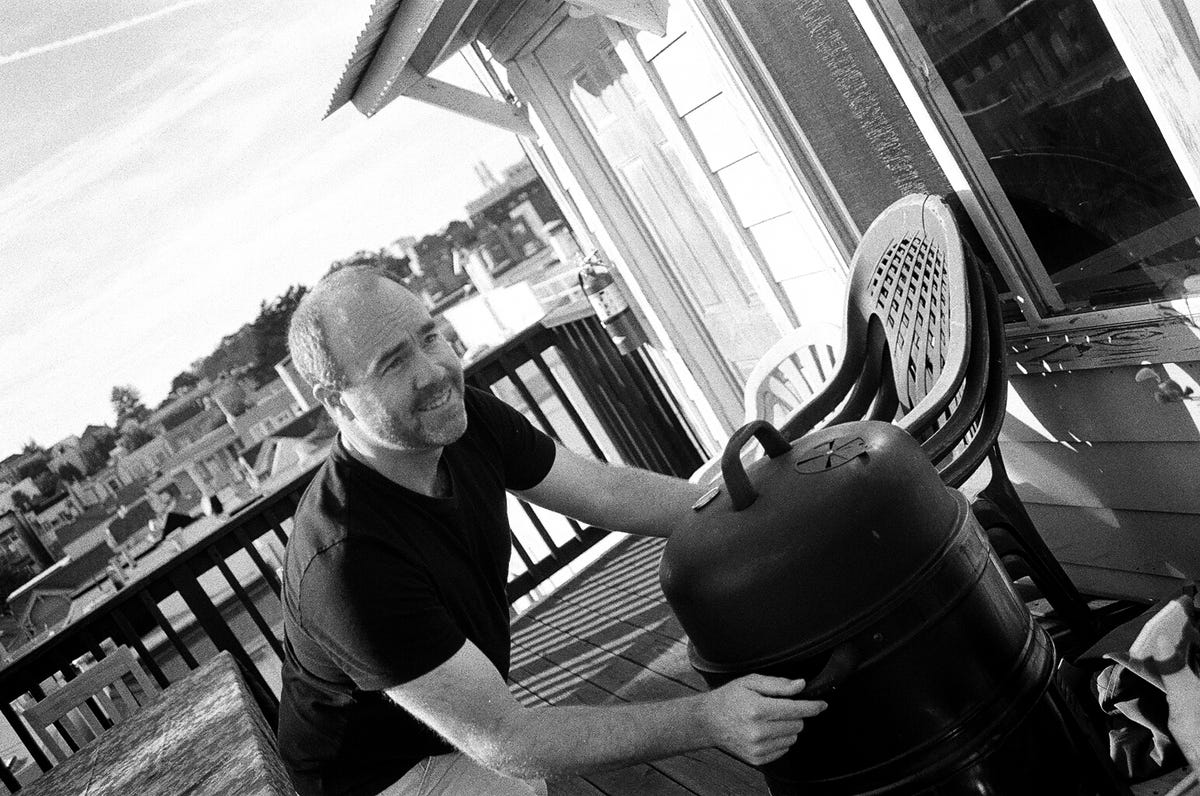 November 2015. Lower Haight (San Francisco, CA)

Beau was just about to unveil the turkey he had been smoking for hours for the Friendsgiving he was hosting. I love how the angle helps to convey the excitement and anticipation, and the shadows of the fence help exaggerate the angle even more.
March 2017. Parc des Buttes-Chaumont (Paris, France)

Grant did a monthlong Europe trip after finishing med school, with a week in each of a few different cities. I got to cameo for his week in Paris. The day Grant and I arrived, we dropped our bags off, stopped by a supermarket to grab some wine and cheese, and ate at the park. I took a couple of versions of this, so I have more level versions of the same shot, but I like this one better: it has the energy of us looking forward to a whole week of exploring a new city neither of had been to before.
October 2017. Playa de El Balneario (Tarifa, Spain)

I was in Spain to swim the Strait of Gibraltar, staying in Tarifa, an adorable little town that's known as the "World Capital of Wind." Kite surfers make great use of this wind, but us swimmers? We wait for the days where it dies down. The angle here was accidental again, but helps convey some of the motion of the kite surfers, who were really moving. Also wow, that clear Mediterranean water? I want to dive right back in.
I don't remember which particular photo was the one that Aaron commented on the Dutch angle in, but I'm pretty sure it from this wedding.
June 2018. Blue Moon Ranch (Temecula, CA)

At Jen and Grant's wedding, the playlist got people moving and having fun on the dance floor. The was a photo booth and props were just around the corner, which led to this appearance from Batman. Again, the angle really showcases the irreverence and fun of the wedding.
Thanks for stopping by! Would love to hear what you think! See you next week!
XOXO,
Margs